An overview of local people's views and awareness of change in health & social care in Sutton.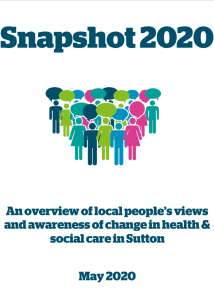 Summary 
Following the success of our Snapshot 1 survey in 2018, we conducted a second Snapshot survey between October 2019 and January 2020. We wanted to find out if there have been any shifts in local people's views over time by repeating the questions and comparing responses over the 2 year interval. 
The survey aimed to gather people's views on the quality of health and social care in Sutton, along with their awareness of local proposals and initiatives. The results were compared with the 2018 Snapshot findings to gauge if opinions have changed. 
There was some positivity about the quality of services in Sutton. A majority of respondents agreed that pharmacies were accessible (89%), and that hospital and GP services (64%) were managed well. 
Regarding social care, more disagreed that money was wisely spent and services were run well (27% and 24% respectively) than agreed (21% and 22%). 
There was no significant change in the overall perception of health and care services since 2018. 
When asked for comment, there was a drop in the mentions of NHS changes and a small increase in mentions of health and social care services in 2018. There was a small increase in negative (15%) and a slight increase in positive sentiment (4%) from the last survey. 
A small majority (53%) of respondents were aware of Primary Care Networks. 
There has been no significant change in people's awareness of the Epsom & St Helier proposals (Improving Healthcare Together) since the last survey: 63% reported they were aware, compared to 37% who said they were not. 
In terms of gender, age, ethnicity and geographic spread, the sample did not differ significantly from 2018. 
Next steps
This report has been sent to: Epsom and St Helier University Hospitals NHS Trust, South West London and St George's Mental Health Trust, Clinical Directors of the 4 PCNs in the Borough, NHS Sutton, NHS South West London CCG, Sutton GP Services, Sutton Health and Care Alliance, Sutton Council and Community Action Sutton. 
Following the publication of Snapshot 1, commissioners and providers advised that they found it difficult to respond due to the broad nature of the findings. On this occasion, we are not requesting formal responses, however, we hope that this report is informative. 
If you need this report in a different format, please get in touch with us.