Snapshot 1: An overview of local Health and Social care services in Sutton
In early 2018, we asked residents to complete a short 12 question survey (Take 5) to capture their thoughts on potential changes to health and social care services in Sutton. This report contains the analysed data of these responses.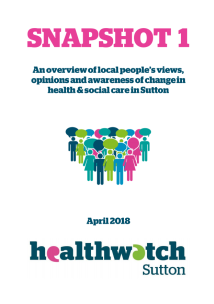 Key findings 
Despite respondents agreeing relatively strongly that their GP surgery provide a good services, there is still a theme emerging from the comments that making a convenient/timely appointment can be difficult. 
Over half of the respondents (56%) are now aware that GP appointments are available from 8am - 8pm, 7 days a week. 
On average, local peope who completed the survey agree/strongly agree that they are able to access pharmacy services easily where they live. 
Nearly three quarters (64%) of local people who responded are aware that Epson and St Helier hospitals are consulting on changes to hospital services in Sutton. 
There was not a strong level of agreement with the statement 'I know where to go if I need help with my mental health'. In addition, there was a number of comments relating to difficulties accessing mental health services, especially services for younger people. 
Approximately 30% of the respondents are aware of the Sutton Health and Care programme. 
When asked about planned changes to the NHS in South West London, 39% stated that they were unaware that any changes were planned. 
For both health and social care, respondents agree that more with the statement 'services are well-run' in comparison to 'money is spent wisely'. Responses for health services are marginally higher rather than social care.