Heathwatch Sutton Annual Report Shows How We Make a Difference
Many people are concerned about accessing local services such as GPs and dentists. The pandemic has highlighted longstanding health inequalities and increased hospital waiting lists. Our annual report highlights the difference we've made in Sutton.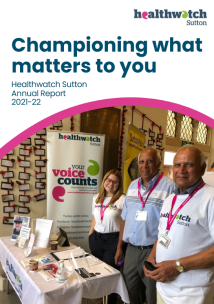 Read 'Championing what matters to you', our latest annual report, to find out more about our work during the pandemic, as well as what we plan to do next.
Our year in numbers:
Last year, over 740 people shared their views, ideas and experiences about health and social care with us
We engaged with and supported over 1,600 people this year on topics including mental health and Covid-19.
We published 3 reports about the improvements people would like to see to health and social care services.
If you need the Annual Report in a different format, please let us know.