Our Annual Report 2020-21
During COVID-19, we have worked hard to support and listen to local people. Find out how we have helped make care better in our 2020-21 Annual Report.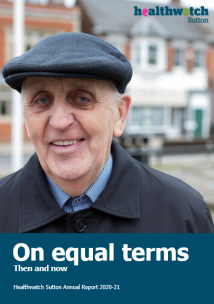 Summary 
Read 'On Equal Terms: Then and Now' to find out more about our work before and during the COVID-19 pandemic, as well as what we plan to do next. 
Our year in numbers
Last year, over 2,000 people shared their views, ideas and experiences about health and social care with us.
We engaged with and supported 1,554 people during the COVID-19 pandemic this year. 
We published 7 reports about the improvements people would like to see to health and social care services. 
50% of recommendations we made last year have been acted upon. 
Highlights from our year
Understanding the mental health needs of primary school children pre COVID-19
Before the pandemic, we asked nearly 1000 primary school pupils (aged 9-11) about their mental wellbeing, and we feel that it is important that their voices are heard. 
Our report found: 
Most pupils told us that friends made them happy, and they worried more about school and homework; 
96% of pupils had access to an internet-enabled device and a majority had some form of supervision when online; 
78% of pupils had at least one social media account. 
We understand that COVID-19 has immensely affected primary school education. In light of this, it is likely that the mental health of pupils will have been impacted. Our report has established a baseline, and provides us with an opportuntiy to carry out a pre and post COVID-19 comparison on the state of mental health in primary school pupils in Sutton. 
Remote consultations and digital prescriptions
The COVID-19 pandemic forced the majority of GP consultations to take place remotely and an increase in electronic prescriptions. 
In June 2020, we asked our patient group members and volunteers to tell us about their experiences of these services to find out how they were working. We received 25 responses. These responses included feedback on positive and negative experiences, observations and suggestions on ways their experience could have been improved. 
Insight from this timely survey and the Changing your GP service survey helped to inform those responsible for planning and providing Sutton GP services to help target their work going forward. 
Responding to COVID-19
Healthwatch plays an important role in helping people to get the information they need, especially through the pandemic. The insight we collect is shared with both Healthwatch England and local partners to ensure services are operating as best as possible during the pandemic. 
This year, we helped 1,940 people by: 
Providing up to date advice on the COVID-19 response locally 
Linking people to reliable up to date information 
Supporting the vaccine roll-out
Supporting the community volunteer response
Helping people to access the services they need