Patient feedback on experiences of remote consultations & digital prescriptions
The COVID-19 pandemic has forced the majority of GP consultations to take place remotely, as well as an increase in electronic prescriptions. We captured patients' views on their recent experiences of using these services.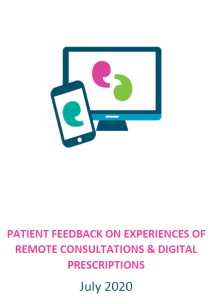 As part of our work, we are commissioned by NHS Sutton to carry out specific work around supporting and empowering a Borough wide Patient Reference Group (PRG) made up of volunteer patient representatives from Patient Participation Groups (PPGs) at GP practices. The majority of Sutton practices are represented at this Forum. 
Patient Participation Groups (PPGs) at GP surgeries
We are always looking at ways to strengthen the voice of local people and that includes ensuring that there are opportunities for Sutton patients to participate in and influence decision making. 
In June 2020, we asked members of the PRG, members of PPGs and Healthwatch Sutton volunteers to tell us about their recent experiences of digital prescriptions and remote consultations at their GP practice. 
We received 25 responses. These responses included feedback on positive and negative experiences, observations and suggestions on ways their experience could have been improved. 
Overall, our findings offer a useful insight into recent patient experience. 
Potential opportunities that arise from the feedback gathered is reflected in reporting by Sir Robert Francis, Chair of Healthwatch England. These are: 
Communicate and ensure patients have access to information on what is available
"Go digital but not by default", whilst overall feedback is generally positive, identifying benefits and advantages, for some people and in some instances, greater use of technology presents barriers and challenges 
Technology and processes that work for GP practices may not be what works best for patients. 
Patient feedback is key to take forward the learning from the changes that have been introduced. 
If you require this report in an alternative format, please get in touch with us. 
Patient feedback on experiences of remote consultations & digital prescriptions