In 2016, local residents told us that they were concerned about the care their friends and family received whilst staying in local hospitals.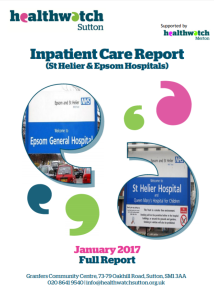 Key Findings
We investigated these concerns between June and July 2016. We found: 
91% of patients told us they trust the doctors taking care of them in both St Helier and Epsom Hospitals. 
89% of patients trusted their nurses. 
1 in 10 patients said that they felt there were not enough nurses on a weekday, rising to 1 in 5 patients when asked the same question about nursing staff levels at the weekend. 
Just under 50% of all patients surveyed said that they had been bothered by noise at night on the ward. 
We also received a number of complaints about the cost and availability of the use of the hospitals' TV/entertainment systems. 
Read the full report to see what patients said and our recommendations to address their concerns.