Healthwatch Sutton Newsletter - Spring 2016
Welcome to our Spring newsletter - we are so proud to be reflecting on what we have achieved as we celebrate our 3rd Birthday.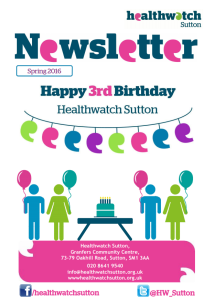 Pride. The first word that comes to our mind as we reflect on what we have achieved, despite all that has confronted us. 
We delight in having excellent relationships with partner organisations, as well as having a lovely group of volunteers, and a committed Board. 
If you need this newsletter in a different format, please contact us. 
020 8641 9540