Healthwatch Sutton Newsletter - Autumn 2014
Welcome to our September newsletter, which gives you an update of our Healthwatch activities.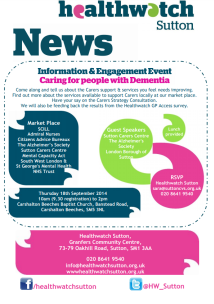 As a Healthwatch, we are involved in the on-going changes to the health and social care structures which are happening nationally and locally. Our remit is to ensure the voice of Sutton residents is heard and we look to achieve services which are responsive to the need - "putting people first". 
If you need this newsletter in a different format, please contact us. 
020 8641 9540