Caring for people with Dementia
A Dementia Hub in Sutton is the one single thing that could address many of the issues highlighted in our latest report about local people's experience of living with or caring for someone with dementia.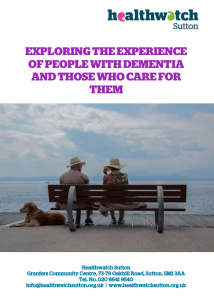 Dementia is a growing problem and a growing concern, nationally and locally.
Read the full report and recommendations to see what the people, we spoke to, told us about their concerns and needs around local health and care services.
Read the case studies to gain an insight into what life, after diagnosis, is like for our participants and see how we plan to take forward the feedback and recommendations with local decision makers.